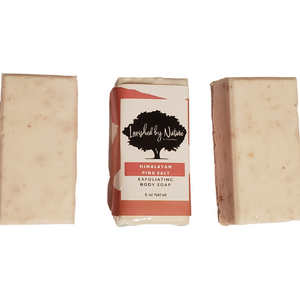 Himalayan Pink Salt Exfoliating Soap
Regular price $12.00 Sale
NEW AND IMPROVED!
This Lavish soap provides a Satisfying Scrub and is layered with moisturizing Shea Butter, Exfoliating Himalayan Pink Salt and Vitamin-rich Grapefruit Oil. These ingredients have been known to detoxify and soften skin as well as fade scars and dark marks! It is scented with a soothing Jasmine and Spa fragrance.
Key Ingredients:
Pink Himalayan Salt - known to aid in the healing and prevention of scars, smooth dry patches, reduce irritations and provide gentle exfoliation
Shea Butter - has been shown to help you achieve a more youthful appearance, reduce skin inflammation, and hydrate dry skin. Rich in Alpha Hydroxy Acid, vitamins A, D, C, B1, B6, B12 and E
Grapefruit Oil - loaded with Vitamin C and has been shown to fade dark marks and scars!
Ingredients: Coconut Oil, Palm Oil, Safflower Oil, Glycerine, Shea Butter, Purified Water, Sodium Hydroxide, Pink Himalayan Salt, Grapefruit Oil, Fragrance Oil, Sorbitol, Sorbitan oleate, Propylene Glycol, Oat protein, Titanium Dioxide.