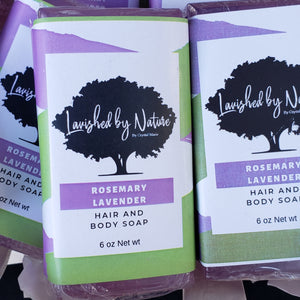 Rosemary Lavender Hair and Body Soap
Regular price $12.00 Sale
This All-in-one, Anti-inflammatory, Sulfate-free soap is the perfect, relaxing end to the day! The Lavender and Rosemary essential oils have been known to stimulate skin cell renewal as well as hair growth! 
***Hypo-Allergenic - Non-Comedogenic (won't clog pores) - Biodegradable - No Animal Testing - Gluten Free - Soy Free - Cruelty-Free - Non-GMO - Handmade with love ***
Key Ingredients:
Rosemary - The nutrients of rosemary can help protect skin cells from damage often caused by the sun and free radicals. Since rosemary has natural antiseptic properties, it's a superior disinfectant for our skin and hair.
Lavender - Restores skin complexion and reduces acne. Slows aging with powerful antioxidants.
Ingredients: Coconut Oil, Palm Oil, Safflower Oil, Glycerine, Aloe Vera Gel, Purified Water, Sodium Hydroxide, Dried Rosemary, Rosemary Essential Oil, Lavender Essential Oil, Sorbitol, Sorbitan oleate, Propylene Glycol, Oat protein, 
Titanium Dioxide.
**Shipping: All orders are processed within 3-5 business days. Standard shipping takes 2-4 business days for delivery after processing. Orders are shipped from New Jersey.