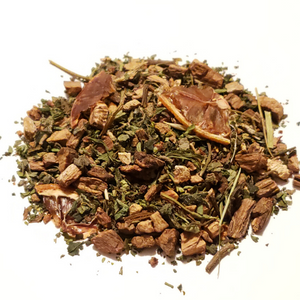 Mango Burdock Root Detox Tea
Lavish your body with this nutrient-packed blend of herbs known for fighting infections, detoxifying blood and liver, lowering blood sugar and building your immune system! Along with many other health benefits, this blend is high in vitamin C and has been known to have antibacterial, anti-inflammatory, antioxidant properties.
Key Ingredients:
Burdock Root: Burdock root is known for containing powerful antioxidants including quercetin, luteolin, and phenolic acids. Antioxidants protect cells in the body from damage due to free radicals. The antioxidant action helps reduce inflammation. It is also known for removing toxins from the blood. It has been known to calm skin issues and has even been shown to be an aphrodisiac!
Nettle: Nettle offers a variety of vitamins, minerals, fatty acids, amino acids, polyphenols and pigments — many of which also act as antioxidants inside your body. Nettle may also help suppress inflammation, which in turn could aid inflammatory conditions, including arthritis, Stinging nettle may also reduce hay fever symptoms. 
Ingredients: Organic Burdock Root, Organic Nettle leaf, Organic Stevia, Orange Peel, Organic Mango Flavor, Dried Lemon.
Directions: Pour 8-12 oz of boiling water (212°F/100°C) over tea bag. Steep for 3-5 minutes. Let cool and Enjoy.
Caution: women who are pregnant, want to become pregnant, or who are breast-feeding, children under 18, people with a history of allergies to plants, and people taking diuretics, diabetes medication, or blood thinners should speak with your doctor before consuming
*These statements have not been evaluated by the FDA.*