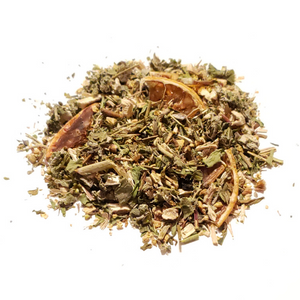 No More Sniffles Tea
Lavish your body with this soothing blend of herbs known to boost immunity, and help ease and prevent cough, common cold, sore throat and respiratory infections.

Raspberry leaf: known to have excellent antioxidant properties and boost immunity (among many other women's health benefits)!
Hyssop herb: Hyssop is known to help with sore throats, colds, hoarseness and is a natural expectorant! It also is known to strengthen the heart and regulate blood pressure.
Marshmallow Root: Marshmallow root is known to treat coughs and colds, fight bacterial infections, and much more!

Elder berry/leaf: known to improve symptoms, such as fever, headache, muscle aches, and nasal congestion. Also known to be high in anti-oxidants and good for prevention of common colds and viruses.
Ingredients: Organic Peppermint Leaf, Organic Elder Flower, Organic Raspberry Leaf, Organic Ginger Root, Organic Elder Berry, Organic Yarrow Flower, Organic Hyssop Herb, Organic Marshmallow Root, Organic Stevia, Dried Lemon.
Directions: Pour 8-12 oz of boiling water (212°F/100°C) over tea bag. Steep for 3-5 minutes. Let cool and Enjoy.
*These statements have not been evaluated by the FDA.*