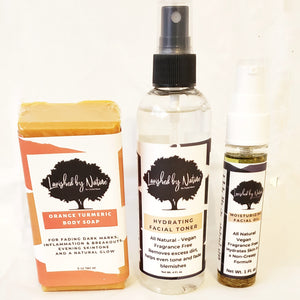 Orange Turmeric Skincare Set
Regular price $47.00 Sale
Look no further for a full body skincare regimen to clear up acne, get rid of dark marks, soften and hydrate your skin, AND GET A NATURAL GLOW! The Orange Turmeric skincare routine is for you! Each lavish product is full of natural ingredients that are known for addressing all of these skin issues and more!
Orange Turmeric Body Soap –
This moisturizing soap will Lavish Your Whole Body! Fade Dark Marks and Control Acne from head to toe! Great for face, back, and chest acne.  The ingredients in this soap have been known to be great for Fading Dark Marks, Acne-Prone skin, Eczema, Inflammation, Razor Bump scars (face, underarm and bikini line), and Irritated skin. It has a mild orange spicy scent.
Hydrating Facial Toner
Lavish your face with a mist of our Hydrating Facial Toner. This uplifting toner is lavished with ingredients to clear pores, even skin tone and hydrate your skin. 
Moisturizing Facial Oil
We have used a a blend of lightweight oils infused with Calendula flowers to moisturize your skin and provide further healing. This oil is great for all skin types and helps to achieve more youthful skin. This Non-greasy formula is non-scented to keep it as gentle and effective as possible.