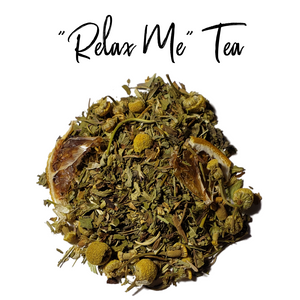 "Relax Me" Tea
Lavish your body with this soothing blend of herbs, known for calming, improving relaxation, boosting mood, reducing anxiety and improving sleep! Along with many other health benefits, this blend has been  known to have antibacterial, anti-inflammatory and antioxidant properties.
 Key Ingredients:
Organic Chamomile: known to help with sleep and relaxation, reducing inflammation, and even treating cold symptoms!
Organic Catnip Leaf: known for the calming effect that it can have on the body. Catnip contains nepetalactone, which is similar to the valepotriates found in a commonly used herbal sedative, valerian. This can improve relaxation, which may boost mood and reduce anxiety, restlessness, and nervousness.
Organic Lavender: known to detoxify the body, reduce inflammation, boost immune health and improve sleep.
Ingredients: Organic Catnip Leaf, Organic Skullcap Herb, Organic Chamomile Flower, Organic Lavender flower, Organic Lemon Balm leaf, Organic Peppermint Leaf, Organic Spearmint Leaf, Organic Oatstraw, Organic Stevia, Dried Lemon
Directions: Pour 8-12 oz of boiling water (212°F/100°C) over tea bag. Steep for 3-5 minutes. Let cool and Enjoy.
*Caution - not recommended for women who are pregnant, or who are breastfeeding, and children who are under 18. They should speak with a doctor before consuming.

*
*These statements have not been evaluated by the FDA.*